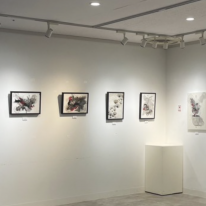 Oct 1, 2022
Permanent Joint Exhibition
R ART ART KANMON by nada
at Daimaru SHIMONOSEKI
2022.Oct.1 –
"R ART!ART!KANMON by nada" has started at Daimaru Shimonoseki store from Sunday, October 1, 2022.
This project is a new endeavor that spotlights many young artists who are attracting attention in Japan today, exhibiting their works as if they were in a museum, and allowing them to purchase their works on the spot.
Through this project, we aim to become a place where daily life and art come into contact and improve the quality of life of our visitors.

Exhibiting artist : nagon、SHU matsukura、NiJi$uke、Isana Yamada、Ayano Inoshita、Saki、miraclekun、Hiroyuki Mori、Yuri Ikeguchi、Yuji Takahashi、an、others